<! intro.HTM>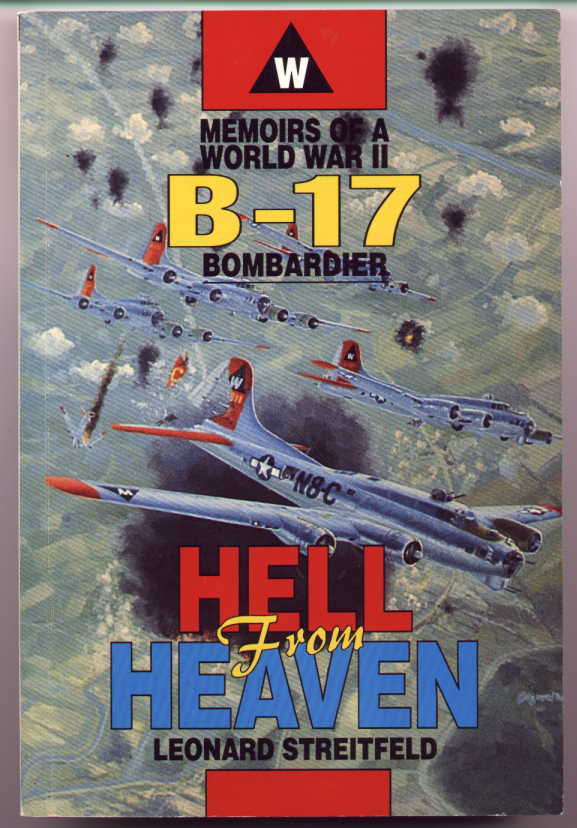 <!===================================================>
---
Dr.Leonard Streitfeld, the author of "Hell From Heaven",was born in Philadelphia, Pennsylvania in 1922. His memories are capturedin this fascinating book from the time he was a child to the time he spent in the United States Army Air Corps from 1942 to 1945.
He kept a diary during his entire term of active duty and gives accurate accounts of his thirty-one combat missions over Germany as bombardier in a B-17.
There are also many intriguing and dramatic stories from others who were sole survivors after their planes were shot down and became prisoners of war. First hand accounts are given of the panic within the plane as the plane tumbled from the skies and how they were lucky enough to parachute out before the plane crashed and exploded.
There are many unexplainable quirks of fate that made survivors out of some and spelled death for the unlucky ones.
For those of you who want the thrill of going on a combat mission over Nazi Germany in a B-17 from start to finish with all the dangers that occurred from being shot at by German fighter planes and anti-aircraft guns to fighting the elements at 30,000 feet, this book is for you.
If you are interested in what life was like in the Eighth Air Force at an American Air Base in England during WWII along with the experiences they had in towns around the base in Nuthamstead and London, England which includes some romance, then this book is for you.
If you are intersted in psychic and unbelievable events that took place, then for sure you will enjoy reading this book.
There are approximately 80 pictures and graphics in this book with some of the pictures being in color that have been reproduced from motion pictures.
Dr. Streitfeld makes his home in Hammonton, New Jersey with his wife, Mary. He has three children, Steve, Rick, and Linda as well as four grandchildren.
He is active in the Eighth Air Force Historical Society, 398th Bomb Group Memorial Association, American Legion, V.F.W.,J.W.V., Associate Member of the Smithsonian Institute, Millville Army AirField Museum, Hammonton Historical Society and several other Organizations including being a director in the Greater Hammonton Chamber of Commerce.
Recently he was elected to the Hammonton Public School Board of Education and was voted Hammonton Citizen of theYear in 1991.
He has written many editorials for the local newspaper but this is his first attempt at writing a book and has already started another.

Library of Congress Catalogue Card Number: 94-092215 (The Laureate Press)

For information write: Dr. Leonard Streitfeld 54 Broadway Hammonton, N.J. 08037 (Or) Fax: 609-561-1946
---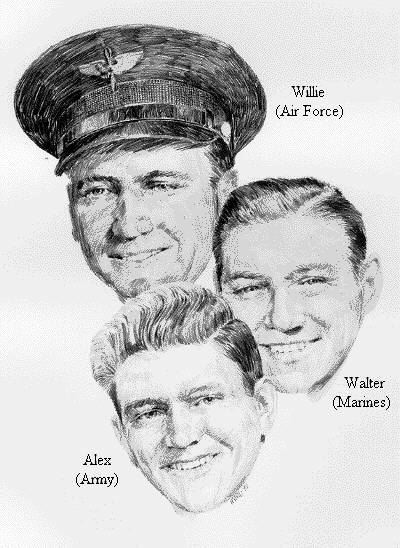 Three Gold Stars
By R. J. Rosamilia
The story of the three Lewandowski brothers of Lyndhurst, New Jersey
Visit Ray's Web Page at
The Brothers
Walter M. Lewandowski
Born January 9, 1920 Sergeant, 3rd Marine Division, 3rd Regiment, 1st Battalion, A Company.
Alex Lewandowski
Born January 20, 1925 Private First Class, 9th Army, XIII Corps., 102nd Infantry, 406th Regiment, 1st Battalion, C Company.
William J. Lewandowski
Born February 28, 1918 Second Lieutenant - B-17 Co-pilot, 8th Air Force 398th Bomber Group, 603rd Bomb Squadron.
Comments on Three Gold Stars
"It is quite a poignant story of a family that gave more in World War II than was their share." JOHN S.D. EISENHOWER
"Outstanding job...a splendid work." WALLACE BLACKWELL, U.S.Air Force (Retired)
"I recommend that you read it and enjoy the wonderful camraderie of this remarkable family." CHARLOTTE SAVINO, Lyndhurst Leader Newspapers
"Thanks for a fine job." LT. COLONEL, WILLIAM LEWANDOWSKI JR.
"The book is unique." CHARLES SIEGER, Director: Lyndhurst Library
I enjoyed reading about the family of one of the young men who came over to help us out." PEGGY WELLS, Nuthampstead, England
"I applaud efforts to promote this book." SENATOR ROBERT TORRICELLI
About the Author
The author is a long time resident of Toms River, New Jersey. He is a graduate of Seton Hall University, the father of three grown children, and a former newspaper writer, columnist and editor. He retired recently after twenty-seven years as an English and History teacher in Brick Township, N.J. schools.
Research for the book included contacts that furnished information from throughout the United States, Canada, England, the Netherlands, Germany and many, Polish-American organizations. The author did some of the research for the book at the site of the 398th Bomber Squadron at Nuthampstead, England. Portions of the book contain eye-witness accounts of the service careers of the Lewandowski brothers. Information was supplied by Frank Morrison, of Wichita, Kansas, the radio operator on the Ellis/Lewandowski crew; Ed Wray Smith of Nashville, Tennessee, a comrade to Alex during the fighting at Apweiler; Albert Cone, their battalion commander, and Robert Keosian of Hawthorne, N.J. who served with Walter and was with him to his last day.
---